"When you walk into a dojo you cross a threshold. You are walking into a space that is unique and special. You feel that you will find something in the dojo that was missing from your life — something that you have been looking for. Our job as instructors is to help facilitate that experience."
– Malory Graham, Seattle Aikikai Founder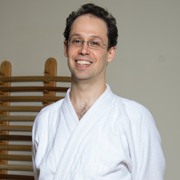 Daniel, 4th dan, started Aikido in 1995 in upstate New York under Irvin Faust sensei. He was attracted to the cooperative, non-competitive nature of the practice. He studied under a variety of visiting teachers from around the region, getting a glimpse of the breadth of the art. He moved to Seattle in 2003 and further broadened his influences studying at Seattle Aikikai (then Puget Sound Aikikai). Daniel loves the endless challenge and variation of Aikido. He believes every class is an opportunity to learn, and every partner can teach you something.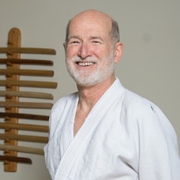 Dave, 4th dan Shidoin, started training in January 1981 at the Waialae dojo in Honolulu under Sensei Robert Aoyagi, Shihan. He teaches adults and kids classes, but likes kids classes the best. He saw a demonstration of Aikido by O'Sensei when he was in high school, and when his doctor advised him to pick up exercise, he decided to start training. He has been training ever since. Off the mat, Dave is a salesman. He says that he applies what he has learned in Aikido daily in his interactions with his customers.
Faith, 4th dan, began training in 1987 and has trained with Graham Sensei for nearly 30 years. She has been teaching all levels including weapons work for more than 15 years. Faith has a day job working for the City of Seattle doing code enforcement, or as she puts it, "solving problems in your neighborhood." She loves the clarity and precision required in aikido weapons techniques, and loves helping students embody the essence of weapons work in their open hand practices.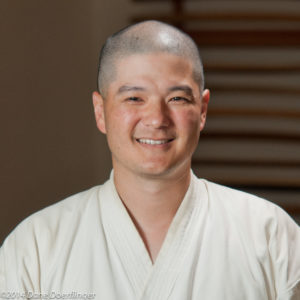 John Peng, 4th dan Aikikai, began training in a variety of "striking" martial arts as an undergraduate student at UCLA in 1990. He found Aikido while attending medical school in Albany, New York in 1995, and happily gave up hitting people for what he felt was a more interesting and life-applicable study. He has been training Aikido in Seattle since 1997, and is a direct student of Jan Nevelius Shihan, 7th dan Aikikai. His Aikido style follows the lineage of O'Sensei to Seigo Yamaguchi Shihan to Seishiro Endo Shihan to Jan Nevelius Shihan. To be soft but sharp, assertive but not against, attentive without judgement, and joyful with intention. Off the mat, he uses Aikido in daily life while practicing outpatient primary care internal medicine in Lynnwood, Washington.
Amanda (she/her/hers) 2nd dan, began training in 1992 in Delaware at a USAF dojo. She has been teaching since 2016. She has trained with, among others, John Messores Shihan (Largo, FL) and the late Kevin Choate Sensei (Chicago, IL), direct students of Mitsugi Saotome Shihan. And, for a short time under Shibata Shihan (Berkely, CA). In 2012, she began training at Seattle Aikikai under Malory Graham. In her day job, she is a Lead Product Designer at a software company specializing in accessibility. She believes that Aikido is a moving, fluid art, with many martial opportunities and possibilities, and loves to help people discover the joy of movement.
Malory Graham Sensei  founded Seattle Aikikai in 1997.  She started training in 1988 with Paul Sylvain Sensei and  received her 6th Dan from Yamada Shihan in 2014. She continues to develop her own training with Yoko Okamoto and Chris Mulligan Senseis of Aikido Kyoto.  Along with teaching aikido and yoga, she has had tandem careers as a filmmaker and non-profit Executive Director. She has made films to promote women in aikido and has been deeply committed to the social justice/youth development field.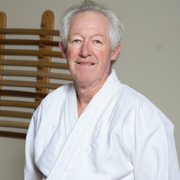 Roy taught the morning classes at Seattle Aikikai with unmatched consistency and precision. His tireless practice inspired many early risers, and his influence is clearly visible in many of our senior students today.